"Our students and staff enjoyed everything about the presentation. The book displayed bullying in a very realistic way so that
the students could identify with both the bully and the victims. Eleni incorporated many opportunities for mindful activities in order to engage the students and get them ready for reading, listening and remaining on task. Although the presentation was done virtually on Google Meet, Eleni found ways to make it as multisensory as possible. All students had sharpened
pencils to represent the pinching of a porcupine's quill and a soft item to represent the softness of a feather. Eleni was able to capture the attention of 20 special needs students on varying grade levels while on remote learning. This is not an easy task and she was able to do so flawlessly.
Eleni perfectly aligned her story with our Social Psychology curriculum. The students were asked to discuss ways in which they react when they are feeling upset, angry or uncomfortable and to brainstorm some other, perhaps, more constructive ways in which they could react instead. She used mindfulness exercises to show them ways to destress and taught them ways in which they can use their bodies to engage their brains in the learning process. The presentation was perfectly leveled for my special needs class and led to constructive conversation between the students and Eleni. Noko the Knight was written in such a way that the concept of bullying and self-reflection really resonated with my students.
When asked, some students said:
"She was fun!"
"I loved the way she taught us to breath."
"She had a very sweet voice."
"I never knew porcupines lived in the bushveld."
"I had a lot of fun, and can't believe I met a real life author!"
I am thrilled that I was able to have her present to my class. She was fun, engaging and I will be recommending her to my
colleagues and friends in the field of education."
Ms. O. Romano
Special Education Teacher
Ridgewood Public Schools, NJ

Time to speak up!
Noko The Knight partners with SpeakUP!™ to encourage students to report bullying & harassment to their school, without fear.
---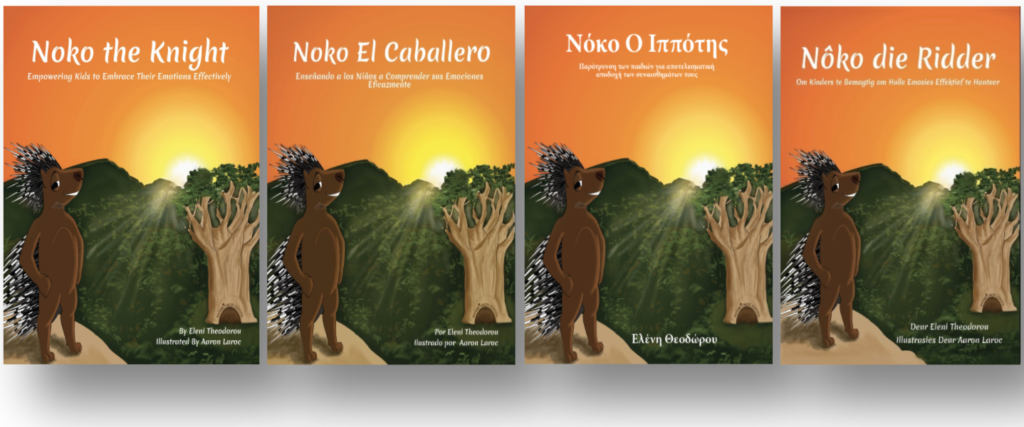 "No matter how long the night, the day is sure to come…"
– African Proverb