MISSION:
To Embed A Culture Of Compassion Far & Wide.
Having effectively served thousands of Elementary School students worldwide, Eleni Theodorou continues to inspire young children to curiously explore their budding emotions.
It is through her tantalizing tale "Noko The Knight" coupled with her compelling multi-sensory program, "Noko's Culture of Compassion Campaign" that students firmly understand that there is NO place for bullying, and that we have the power of choice.
"Yes! I am a Knight! I CHOOSE to do what's right!"
Her dedication and colorfully creative approach impactfully teaches students the art of Compassion; the importance of kindness, forgiveness and cultural appreciation.
"No matter how long the night, the day is sure to come…"
– African Proverb
Why Eleni Theodorou?

Well rounded educational background in psychology.

Natural talent for captivating and engaging students, allowing for lasting impact of her work.

Focused on holistic healing of her students and their families.

Effectively served students in the United States, Africa and the United Kingdom.
Why Noko's Culture of Compassion Campaign?

It is rooted in the school of Positive Psychology


Students are taught cognitive flexibility, accountability and the value of cultural diversity.

"Dear Eleni,
First, I want to say thank you for presenting to our students. Your message of empowering students to employ compassion and kindness is a powerful message that all students can benefit from experiencing. Both your book and the character, "Noko the Knight" is very cleverly designed to deliver an anti-bullying lesson to the students while at the same time was very entertaining and engaging.
Moreover, your presentation to our students was no less than outstanding! You employed the techniques of a talented and expert teacher, so much so, that I thought you had taught previously. The students were fully engaged during the entire reading. Some of the techniques that I noticed were your use of engaging four of the five senses during the presentation. You had visuals (SmartBoard), sound (story reading and soft music), touch (quills and feathers), and finally, smell (soft lavender-scented pillows). It was truly amazing to watch you engage the large classes of students throughout the lesson that began with your use of impressive mind-brain crossover movements which are designed to get the brain focused and are also used as a class management tool as well.
As a teacher, a library media specialist, and a parent myself I can't say enough about how truly impressed I was with your presentation to our students. I am thrilled that the Jersey City Public Schools has brought you on board to employ these interactive lessons that teach students to feel empowered and to be compassionate and kind to each other.
Library Media Specialist
J.W. Wakeman School 6

Time to speak up!
Noko The Knight partners with SpeakUP!™ to encourage students to report bullying & harassment to their school, without fear.
---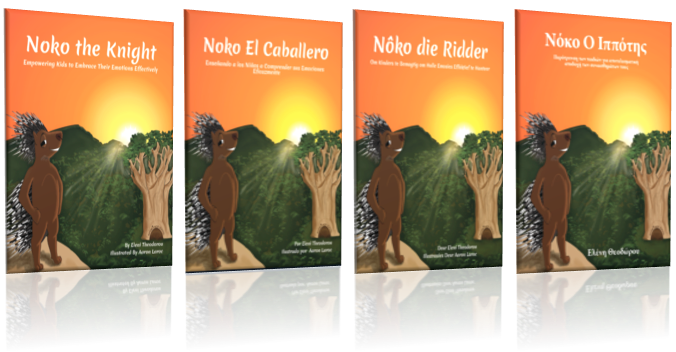 Lovely children's book

–

I foresee this tale making wonderful impact…